When things Break Down, We Step Up.
A home warranty provides repair or replacement coverage for mechanical failures of major systems and appliances. Whether the dishwasher suddenly stops washing or the A/C1 stops cooling, you'll appreciate the savings, convenience and peace of mind that come with home warranty protection. Plus, you can enjoy the benefits of a Cinch home protection plan for as long as you own your home.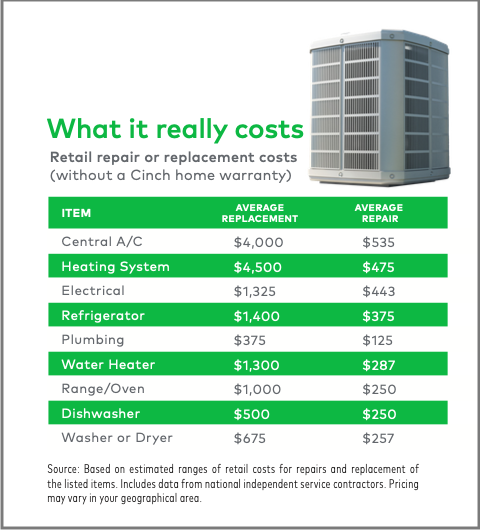 Plan to be protected
You've thought about blinds versus drapes; you've planned where the sofa will go; but have you thought about your appliances and systems failing? Responsible homeowners often choose to have a home warranty because homeowners insurance does not cover failures of appliances and systems.
Plan for savings

Typically, you'll pay one low deductible for covered components that need repair or replacement, saving you thousands of dollars.*
Plan for convenience
Contact Cinch 24/7, and we'll match you with a pre-screened, licensed professional, so you won't need to waste time searching the internet and hope for the best.
Plan for peace of mind
A Cinch home warranty provides assurance that you won't have to worry when a covered appliance or system breaks down and that you will be provided with a repair professional you can trust.
Experience the Cinch difference.
Comprehensive coverage. Exceptional value.
Seller Benefits
Market your home with a Cinch home warranty - the perfect buyer incentive.

Avoid closing delays due to a system or appliance failure.
Protect your budget from unexpected repair or replacement expenses while your home is on the market.
No up-front costs as the warranty is payable when the property closes. After closing the buyer gets one full year of coverage.
Buyer Benefits
Multi-year discount pricing is available: Lock in the first-year introductory rate for additional coverage years.*

You don't have to worry about an unexpected repair expense should a covered system or major appliance break down due to normal wear and tear.

Pay a standard deductible per service call, per trade on covered components.*

Save with Appliance Buyline®. Take advantage of our buying power and get discounts off brand-name appliances for remodeling projects or appliance upgrades.
180-day Workmanship Guarantee
We back up our commitment with our industry leading workmanship guarantee.
Emergency Lodging Reimbursement*
Buyers will be reimbursed up to $1,200, for hotel/motel stay if their only cooling or heating system is non-operational for 24 hours or more from the time of the first service visit.
Homeowners Insurance Deductible Reimbursement